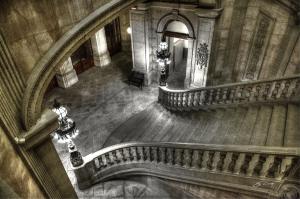 Photographer Ed Cilley is pleased to announce that he has sold two photographs in one week. Two separate images, but both buyers chose the option of printing on metal. "Nature Unframed" is an image of a tree, wrapped in yarn in multiple colors crocheted into small pieces, that are in turn crocheted into larger pieces that encase a tree trunk like a sleeve.

The second photo, "Main Staircase from Above" was made into a huge 48x31 metal print. This photo is of the main staircase in the Palacio de Bolsa, in Porto, Portugal.

Ed Cilley is a photographer and video producer who is always looking for those special images. He has traveled to Asia, Europe and almost every state in the United States.